Saturday, November 12, 2005
And the Mackie goes to...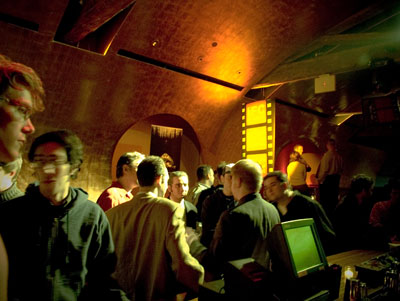 The awards ceremony just finished. Here are the results of the 2005 machinima filmfestival:
Best Machinima Series:
This Spartan Life - Chris Burke
Best off the shelf machinima
The Return - Terran Gregory & Ezra Ferguson
Best Independent Machinima
Red vs. Blue - Rooster Teeth
Best Commercial/Game Machinima
Game: On - Ethan Vogt
Best Editing
Strangerhood Studios - Rooster Teeth
Best Sound
Only the Strong Survive - Riot Films
Best Visual Design
person2184 - Friedrich Kirschner
Best Technical Achievement
person2184 - Friedrich Kirschner
Academy Honorary Award
David "crt" Wright - for developing KeyGrip for Quake
Best Writing
P.A.N.I.C.S. - Rooster Teeth
Best Virtual Performance
A few Good g-men - Randall Glass
Best Direction
Whiplash: The Movie - Jake Hughes
Best Picture
Game On - Ethan Vogt
So there you have it! Congratulations on all of the winners. And please be reminded that all of the nominees are awesome movies that you
have
to check out. For a complete list of nominees and the official academy announcement, go visit the
festival page
.
Thanks go out to Paul Marino and Frank Dellario and lotsa of other people for putting this festival together.
It was a fun event, most of the filmmakers were present and took home their trophys.
Pictures, interviews, videos and everything else to follow shortly.